Overcoming Obstacles
– Entrepreneurship Lessons from Martin Brown
Date: Thursday 22 May 2014
Venue: Townhouse Hotel
Time: 08:00 – 10:00
Guest Speaker: Martin Brown
MC: Peter Greenwall
Tickets: R150
Sponsored by:





About Martin Brown: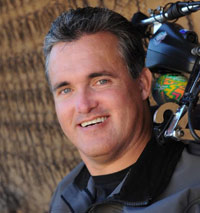 Martin Brown is an inspiring business and motivational speaker who focuses on overcoming adversity and instilling creative thinking with true inspirational leadership. Martin's talks build on his own story of his obsession with the guy who broke his neck and how he turned this obsession and his greatest tragedy into his greatest success, thus demonstrating how his extraordinary experience shaped his unique view on inspirational leadership.
Martin Brown has developed an amazing global business designing and manufacturing custom-built all-terrain powered wheelchairs with great success over the past 15 years. It was a business born out of necessity as in 1997 Martin broke his neck and became paralysed to the C4 level a quadriplegic, only being able to move his head.
The accident motivated him to produce for himself, then later for customers worldwide, a series of custom-designed and built innovative new wheelchairs – and as a result he has won several entrepreneurial achievement awards along the way:
"Sanlam / Business Partners Entrepreneur of the Year® 2010 SME Award" 
"Inseta Business Leadership Award – 2011" 
"SEDA Most Promising Job Creating Entrepreneur – 2011" 
"SEDA Most Promising Entrepreneur with a Disability – 2011" 
"Sanlam / Business Partners Entrepreneur of the Year® 2012 Finalist" 
"Finalist for the Industrial Category the 2013 Africa SMME Awards Competition" 
Martin was born in Cape Town, South Africa. His interests after high school led him firstly into the engineering field and thereafter, into the medical field. He achieved National Colours in Acrobatics and was a member of the Acrobatic Federation of South Africa as well as being a Provincial Colours Athlete and a Professional Ballroom and Latin Dancer, yet in his second year of medical studies, Martin was injured in a freak diving accident which changed his life path forever.
Afterwards, calling fully on his engineering background, which combined with his medical experience, Martin forcefully took charge of circumstances and began to climb the entrepreneurial ladder through personal experience to become the successful, award-winning businessman he is today.
By continuously reinventing the way he approached his life and his company approaches the current market has seen Martin become a leader in his industry. He believes that the reason he is where he is, is because of pushing boundaries of himself and his team to think outside the box and think innovatively. Every year they introduce a new product to the market.
Martin story is spellbinding, yet he himself presents with ease and humour to all levels of corporate or general audiences. He keeps his audiences captivated by interweaving his own experience into his tailored materials. The audience will leave inspired, feeling that nothing is impossible and they might just even be the next 'Inspirational Leader' within your business.
Click the link provided to download a PDF file about Martin Brown…