YES, TEEN ENTREPRENEURS CAN MAKE IT HAPPEN – Sabirul Islam
Date: Saturday 30 May 2015
Venue: Southern Sun, Newlands
Time: 08:30 – 10:30
Guest Speaker: Sabirul Islam
MC: Peter Greenwall
Tickets: Adult – R150, Teens – R75
Photos from the event
Map To Venue
About Sabirul Islam: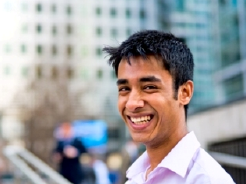 A UK Teen-Trepreneur, global motivational speaker and author and founder of the bestselling book: "The World at Your Feet" and 'Teen-Trepreneur."
With a vision to want to achieve success as a young entrepreneur, Sabirul Islam, an ordinary East London teenager who grew up witnessing crime and violence within his community, made the jump to setting up a web design business at the age of 14. Having run the web design company for a period of 2 years and generating a healthy income whilst still in school, Sabirul felt it was best to leave web designing as it became "very common."
Sabirul quickly discovered the benefits of risk-taking at a young age and, with a passion for networking and big organisational support. Sabirul took a step forward to become a junior trader at the age of 16, having been given the opportunity by Merrill Lynch to learn how to trade whilst in New York.
With a wealth of knowledge and experience as a young entrepreneur and investor, Sabirul had the vision and desire to inspire young people across the nation which led him to write his first book called "The World at Your Feet" aged just 17. The launch of his first book presented the opportunity for Sabirul to become a motivational speaker, sharing his message at 379 events in nine months and selling over 42,500 copies of his book.
Sabirul not only wants to inspire young people, but to educate them about the world of entrepreneurship and taking risks. This motivated him at the age of 18, to invest £20,000 of his own money into developing and launching his own business board game called "Teen-Trepreneur." The game itself has sold in 14 countries worldwide and is now used as part of the BTEC Business Qualification in over 450 schools across the UK. Launched alongside the board game was Sabirul's second book, "The World at Your Feet: Three strikes to a Successful Entrepreneurial Life".
Sabirul set up his second business named after his book 'The World at Your Feet' which consists of many small enterprises and programmes that deliver inspiration, empowerment and entrepreneurial initiatives. This includes 'Teen-Speakers,' bringing together the 'World Best' young influential speakers aged 16-25, all on to a single platform to inspire & empower a global audience.
His venture also consists of Teen-Publishers, a platform for young writers aged 5-25 a platform to get their books professionally published & selling via online retail channels. Sabirul also launched the Teen-Trepreneur Success kit, a training program to help nurture youth to become successful entrepreneurs.
Now aged 20, Sabirul's vision to inspire young people has expanded to a global scale having reached out to millions of people across the UK, Europe, USA, Nigeria, South Africa, Japan & the Maldives. Enabling Sabirul to launch the 'Inspire1Million,' with a vision inspire, engage and transform the lives of 1 million people in 20 countries within 12 months.
Sabirul Islam, an ordinary East London Youth who is still only 20, is rapidly developing an empire that inspires, educates and provides the opportunity for an ordinary individual to become an "extraordinary entrepreneur."
Sponsored by: